Great News On The Labour Front In Canada
.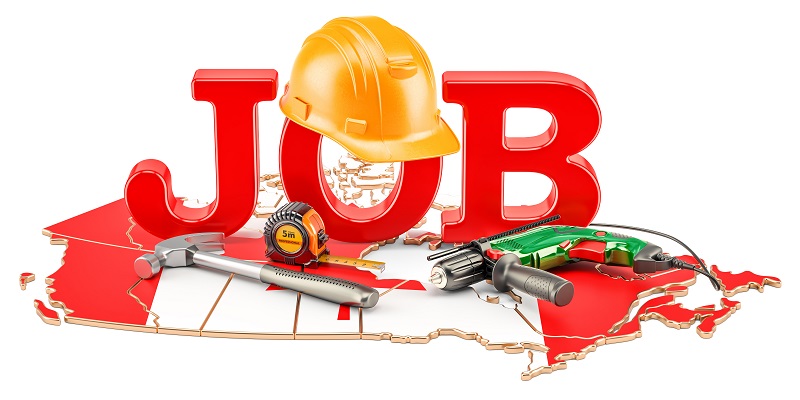 Another Blockbuster Jobs Report in November
Statistics Canada released the November Labour Force Survey this morning, reporting employment gains of 153,700 last month–four times bigger than expectations. The unemployment rate fell to 6% from the 6.7% rate posted in October and is only 0.3 percentage points above the 5.7% rate posted in February 2020 before the pandemic began. This, along with the solid third-quarter GDP report released earlier this week, locks in expectations for a Bank of Canada interest rate hike next year. Employment is now 186,000 jobs above pre-Covid levels. November's report marks the sixth straight month of job gains. Markets are already pricing in five Bank of Canada interest rate hikes next year.
Employment increased in both the services-producing and goods-producing sectors in November. Both full-time (+80,000; +0.5%) and part-time (+74,000; +2.1%) work increased, and employment gains were spread across six provinces.
Total hours worked increased 0.7% and returned to the pre-pandemic February 2020 level for the first time. Hours rose across most industries, led by manufacturing, wholesale and retail trade, and construction. Despite increasing in November, hours in the goods-producing sector were still below their pre-pandemic level (-3.6%). All of the growth compared with February 2020 was in the services-producing sector (+1.3%), most notably in professional scientific and technical services (+12.5%).
Record high employment rate among core-aged women
More than 8 in 10 (80.7%) core-aged women aged 25 to 54 were employed in November, the highest employment rate recorded since comparable data became available in 1976 and 1.0 percentage points higher than in February 2020. In November, employment among core-aged women grew 66,000 (+1.1%), primarily in full-time work (+47,000; +0.9%), with growth spread across several industries.
Employment rose by 48,000 (+0.7%) among core-aged men in November, with gains entirely in full-time work. The employment rate for men aged 25 to 54 increased 0.5 percentage points to 87.1%, which is on par with the recent high in September 2019, and 0.5 percentage points higher than in February 2020.
Unemployment rate declined for the sixth consecutive month
The unemployment rate fell 0.7 percentage points to 6.0% in November. This was the sixth straight monthly drop and the most significant decline since March 2021. Before the pandemic, the unemployment rate had hit a record low of 5.4% in May 2019 and was 5.7% in February 2020.
First decline in long-term unemployment since August
The number of Canadians unemployed for 27 weeks or more fell 62,000 (-16.2%) in November, the first monthly decline in long-term unemployment since August 2021. Long-term unemployment fell more for women (-43,000; -24.2%) than for men (-19,000; -9.4%), with the decline spread across the core-aged and 55 and older age groups. The decline was particularly sharp for those who had been unemployed for 52 weeks or more (-56,000; -23.4%).
Long-term unemployment as a proportion of total unemployment fell 2.2 percentage points to 25.6% in November, following four months of little change. The share remained elevated compared with the level of 15.6% observed before the pandemic.
Wage rates rise 5.2% over two years after adjusting for employment composition
Average hourly wages were 5.2% higher (+$1.46 to $29.57) in November 2021 compared with two years earlier, controlling for the unprecedented changes in the composition of employment since February 2020. The October CPI indicated an increase of 5.3% from two years earlier. In comparison, fixed-weighted average wages had increased 5.1% from October 2019 to October 2021, or 7.5%, without controlling for composition changes.
Not surprisingly, wages increased more for recent hires than for established employees. The record-high job vacancies in September have continued to focus attention on the question of whether employers in some industries might raise wages to address recruitment and retention challenges. Average wages increased faster for new employees than for employees who have been in their current job for 18 months or longer.
Bottom Line 
When the Bank announces its policy decision next week, Governor Macklem will undoubtedly confirm that the economy has bounced back from its Q2 weakness. Though the omicron variant has increased uncertainty regarding the pandemic outlook, the economy is rapidly approaching full employment. Moreover, as inflation remains well above target and wage pressures are mounting, the Bank will be mindful of its commitment to normalize interest rates next year. If anything, today's labour market report may accelerate expectations for a BoC rate hike to the first quarter of next year rather than the second.
---