Great News On The Canadian Job Front
.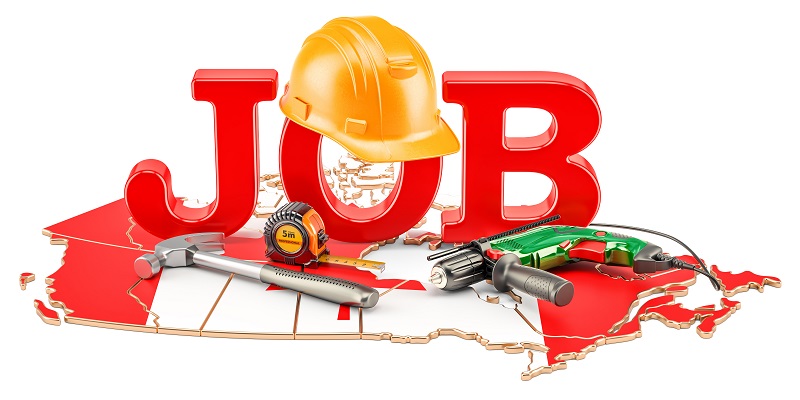 Blockbuster September Jobs Report–Further Fuel For Rising Interest Rates
Statistics Canada released the September Labour Force Survey this morning, providing some unmitigated good news on the jobs front. Employment rose by 157,000 (+0.8%) in September, the fourth consecutive monthly increase. The unemployment rate fell by 0.2 percentage points to 6.9%.
Employment gains in September were concentrated in full-time work and among people in the core working-age group of 25 to 54. Increases were spread across multiple industries and provinces.
Employment gains in the month were split between the public-sector (+78,000; +1.9%) and the private-sector (+98,000; +0.8%).
Employment increased in six provinces in September: Ontario, Quebec, Alberta, Manitoba, New Brunswick and Saskatchewan.
Service-sector increases (+142,000) were led by public administration (+37,000), information, culture and recreation (+33,000) and professional, scientific and technical services (+30,000).
Employment in accommodation and food services fell for the first time in five months (-27,000).
While employment in manufacturing (+22,000) and natural resources (+6,600) increased, there was little overall change in the goods-producing sector.
The gains in September brought employment back to the same level as in February 2020, just before the onset of the pandemic. However, the employment rate—that is, the proportion of the population aged 15 and older employed—was 60.9% in September, 0.9 percentage points lower than in February 2020, due to population growth of 1.4% over the past 19 months.
The number of employed people working less than half their usual hours was little changed in September and remained 218,000 higher (+26.8%) than in February 2020. Total hours worked were up 1.1% in September but were 1.5% below their pre-pandemic level.
Among 15-to-69-year-olds who worked at least half their usual hours, the proportion working from home was little changed in September at 23.8%. The ratio who worked from home was lowest in Saskatchewan (12.3%) and Newfoundland and Labrador (12.8%), and highest in Ontario (28.7%). Overall, at the national level, the proportion of workers who worked from home was higher in urban areas (25.2%) than in rural areas (15.9%).
In September 2021, 4.1 million Canadians who worked at least half their usual hours worked from home, similar to the level recorded in September 2020.
The unemployment rate declined for the fourth consecutive month in September, falling 0.2 percentage points to 6.9%, the lowest rate since the onset of the pandemic. The unemployment rate peaked at 13.7% in May 2020 and has trended downward since, with some short-term increases during the late fall of 2020 and spring of 2021, coinciding with the tightening of public health restrictions. In the months leading up to the pandemic, the unemployment rate had hovered around historic lows and was 5.7% in February 2020.
The adjusted unemployment rate—which includes those who wanted a job but did not look for one—was 8.9% in September, down 0.2 percentage points from one month earlier.
Long-term unemployment—the number of people continuously unemployed for 27 weeks or more—was little changed in September. There were 389,000 long-term unemployed, more than double the number in February 2020.
The ability of the long-term unemployed to transition to employment may be influenced by several factors, including their level of education and current labour market conditions. For example, those with no post-secondary education face a labour market where employment in occupations not requiring post-secondary education was 287,000 lower in September 2021 than in September 2019 (not seasonally adjusted).
Bottom Line 
The Bank of Canada has repeatedly suggested that it would not begin to tighten monetary policy until the economy returned to full capacity utilization, which they estimate will not be until at least the second half of next year. Employment will need to surpass pre-pandemic levels before complete recovery is declared because the population had grown since the start of the crisis 19 months ago.
Substantial job losses remain in the hardest-hit sectors. The chart below shows the employment change in percentage terms by sector compared with February 2020.
Sectors where remote work has been widespread–such as professional, scientific and technical services, public administration, finance, insurance and real estate–have seen a net gain in employment. However, in high-touch sectors that were deemed nonessential, the jobs recovery has been far more constrained. This is especially true in agriculture, accommodation and food services, and recreation. Ironically, these sectors have high job vacancy rates as many formerly employed here are reluctant to return. Enhanced benefits and compensation in these sectors will help.
Just this week, the BoC Governor Tiff Macklem reiterated that widespread inflation pressures are likely to remain at least until the end of this year. Most are reflective of global supply chain disruptions as well as extreme weather events. Just how long these will last is uncertain, but tighter monetary policy would have little impact on this type of inflation.
Nevertheless, bond markets have sold off worldwide in response to inflation fears and the annual US debt-ceiling antics. The final chart below shows the steepening of the Canadian yield curve since one year ago. The 5-year bond yield has risen sharply over that period, from 0.378% to a current level today of 1.205%. It is no surprise that 5-year fixed mortgage rates are rising. 
---