Canada's Economy Is Outperforming the US
.
Canadian Economy Recovers Almost Half Its COVID-Induced Loss in May and June
The Canadian economy bounced back sharply in May and June as Canadian provinces eased lockdown measures.
GDP expanded 4.5% in May, and activity in June was even more robust at an estimated 5% rise. Cumulatively, GDP rose 10% in May and June, after plummeting more than 18% in March and April. These figures are calculated on a month-over-month basis.
These figures point to about a 40% annual rate decline in second-quarter GDP in Canada, which is roughly in line with economists' projections. South of the border, the US posted a 33% contraction in GDP for the second quarter, the most massive plunge on record (see details below). It's not surprising that Canada's economy tanked by more than the US in Q2, as Canada enacted more aggressive restrictions earlier than the US and eased them more slowly. These public health restrictions were well worth it, as Canada has had far greater success at flattening the curve of new cases and deaths. Moreover, Canada's economy will likely outpace the US in Q3, showing the benefit of allowing the public health considerations to dominate.
Canadian output was up in most sub-sectors in May, with double-digit monthly gains by retailers coinciding with the reopening of many stores. Construction, too, recorded a strong rebound, with activity up 17.6% month-over-month in the sector.
Activity at food services and bars rose 35.1% in May as dining rooms and patios began to open in certain parts of the country, while other restaurants continued relying exclusively on take-out and delivery. Meanwhile, accommodation services dropped 2.3%, as ongoing restrictions on international and interprovincial travel kept most Canadians at home.
Real estate and rental and leasing increased 1.5% in May following a 3.4% decline in April. Activity at the offices of real estate agents and brokers jumped 57.1% in the month, as home resale activity in nearly all major urban centres increased in conjunction with a substantial increase in the number of newly listed homes. Nevertheless, the output of real estate agents and brokers remained 44% below February's level.
Arts, entertainment, and recreation declined another 2.9%. We expect some of these services industries to continue to lag the recovery as demand will be slow to rise due to remaining safety protocols and concerns about virus spread.
Oil production remained sluggish in May, down another 2.7% from April and drilling activity has yet to show signs of a significant rebound into the summer.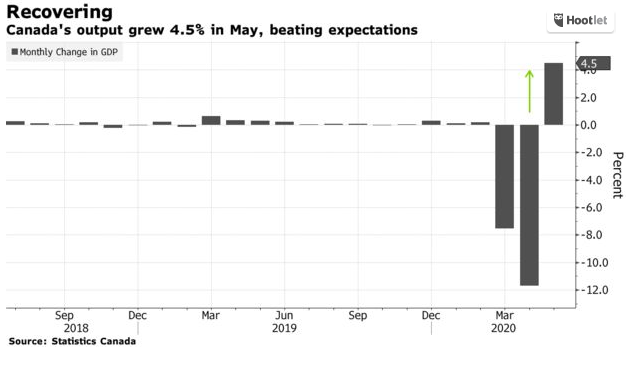 US Economy Shrinks at a Record 32.9% Pace in Q2
US gross domestic product shrank 9.5% in the second quarter from the first, a drop that equals an annualized pace of 32.9%, the Commerce Department's initial estimate showed on Thursday. That's the steepest annualized decline in quarterly records dating back to 1947. The drop in GDP in the quarter was close to expectations but was still alone more than twice the total 6-quarter peak-to-trough decline in the 2008/09 recession.
Consumer spending, which makes up about two-thirds of GDP, slumped an annualized 34.6%, also the most on record. While employment, spending and production have improved since reopenings picked up in May and massive federal stimulus reached Americans, a recent surge in infections has tempered the pace of the recovery.
US Jobless Claims
A separate report Thursday showed the number of Americans filing for unemployment benefits increased for a second straight week. Initial claims through regular state programs rose to 1.43 million in the week ended July 25, up 12,000 from the prior week, the Labor Department said. There were 17 million Americans filing for ongoing benefits through those programs in the period ended July 18, up 867,000 from the prior week.
While the economic restart has helped put 7.5 million Americans back to work in May and June combined, payrolls are down more than 14.5 million from their pre-pandemic peak.
"We have seen some signs in recent weeks that the increase in virus cases, and the renewed measures to control it, are starting to weigh on economic activity," Fed Chairman Jerome Powell said at a news conference Wednesday after the central bank's two-day policy meeting. "On balance, it looks like the data are pointing to a slowing in the pace of the recovery," though it was too soon to say how extensive — or sustained — this period would be, he said. This is a reminder that there are limits to how much the economy can rebound to a 'new normal' in the absence of a vaccine or more effective treatments.
According to Bloomberg News, The US economy has stalled for the fourth consecutive week as new virus cases continue to surge and some lockdown measures have been reinstated. In the week ending July 24, we saw a decline in US public transit ridership, airline passengers, mortgage applications, consumer confidence, and same-store sales.
With the election only three months away, American voters will have to decide whether to re-elect President Donald Trump to a second term against a backdrop of the virus-induced recession and his response to the health crisis. Not surprisingly, Donald Trump floated the idea of delaying the election in a tweet yesterday morning, suggesting once again the false claim that widespread mail-in voting would make the election "inaccurate and fraudulent." The president has no power to postpone or cancel an election on his own, and his comment triggered a hugely negative response from both his own party and the Democrats. 
In the meantime,a $600 weekly supplement to unemployment benefits that has provided a key economic lifeline for millions of Americans ends today with Republicans and Democrats still quarrelling over a path forward. This, while US coronavirus deaths now top 152,000, hitting records in Texas and Florida and Dr. Anthony Fauci warns that the disease is spreading rapidly to the Midwest.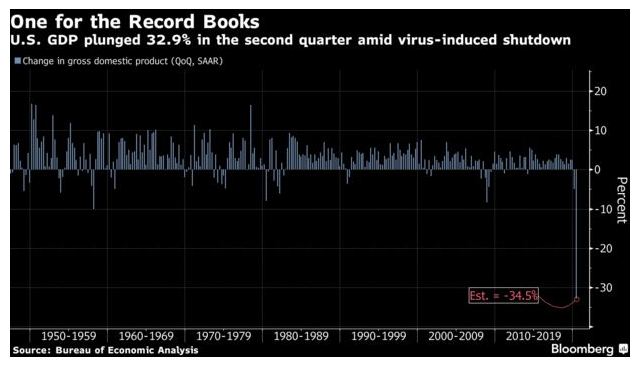 Bottom Line
The Canadian economy is outpacing the US in the early recovery period.
Some of the initial bounce-back in Canada – particularly in the housing market – probably reflects the release of pent-up demand generated during the lockdown. Unprecedented income supports have also helped prop up near-term household purchasing power. Payments from CERB alone looked larger than total wage losses through the downturn in April, and we expect to see more of the same in May payroll employment and wage numbers in the week ahead.
The threat of a resurgence in virus spread will still limit the amount that the economy can recover over the second half of this year – and activity in the oil and gas sector still looks exceptionally soft. We still expect GDP to be more than 5% below year-ago levels, and the unemployment rate elevated, in Q4. But there is some scope for Canada to outperform the US in the very near-term, provided virus spread can remain relatively well contained.
According to early advance data for July published by RBC economics, retail and recreation activity in Canada continues to recover more quickly than in the US states suffering surging COVID cases (see chart below).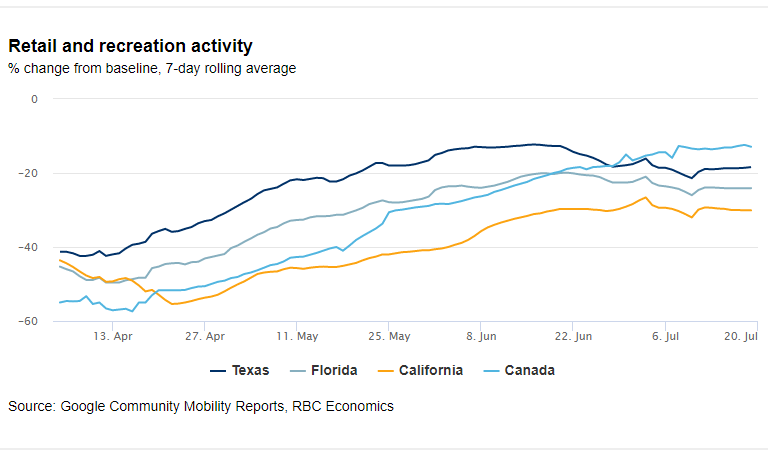 ---