Published by DLC Marketing Team
One Smart Cookie…
.
…who became financially fearless!
Sandra Hanna knows a thing or two about personal finance. In fact, as one of the founders of Smart Cookies, an online resource that helps women with become financially fearless, she knows quite a bit about money and how to take care of it. But it wasn't always that way.
Hanna was a struggling millennial living in Vancouver in 2007 and wanted to get smarter about her money. More specifically, she wanted to buy her first home but wasn't sure how to do it.
"I felt like nothing was targeted to me and my demographic, as a woman, as a young woman and someone who still wanted to have a life and also save and be smart about money," she told Our House Magazine.
Hanna brought her frustrations up with a girlfriend, and the two coworkers suggested starting a finance education club. Hanna describes it as a kind of book club but for money. It turns out, three more of her friends and coworkers were thinking the same thing.
So, at an apartment in Vancouver's trendy Yaletown, the five young women sat down for a frank conversation about money and their goals for becoming financially fearless. They laid it all on the table and got honest about their finances. And, at least in the case of her friend Angie, it wasn't pretty. The group discovered their friend was tens of thousands of dollars in debt.
"Money isn't something you talk about a lot, especially as young women," Hanna said, adding she hadn't quite put herself in a hole that big, but still had some debt to deal with.
Over the course of the year, the small money club met with each member bringing a new piece of information to the table to share. Within a year, the women collectively paid off $20,000 in debt and increased their earnings by $100,000. Hanna noted the group helped each other out with getting raises, picking up extra work and general support.
"as a young woman, and someone who still wanted to have a life and also save and be smart about money I felt like nothing was targeted to me and my demographic – money isn't something you talk about alot, we wanted to change that."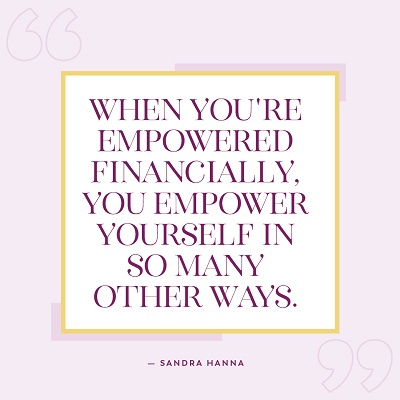 Financially Fearless Q&A
OUR HOUSE: You mention in your bio that your friends, who are women, were clueless and terrified about money. Is that common and why do you think that is, specifically for women?
SANDRA HANNA: I've certainly met some men who feel the same, but I think women, in general, it's not something that's talked about, even in your friends circle. I feel men are exposed to more natural conversations that come up, and women aren't necessarily, and you start to think everyone knows something and I don't. And what you start to discover when you dig in is, none of it's rocket science. I went to school for psychology. I have zero official financial background, and so everything I leaned is self taught. I think the empowering thing is realizing you don't have to be great at numbers, you don't have to have been a math whiz, you don't have to love Excel spreadsheets to reach your money goals. I think that's what connects with women about being part of our Smart Cookies community and being part of the program. We're not the finger waving Suze Orman type; we're very much like girlfriends who happen to be really curious about money and finances and what that looks like in terms of your life. Once you get your finances in control and what happened with us is every area of your life becomes so much richer and that's not a coincidence. When you're empowered financially you empower yourself in so many other ways.
OUR HOUSE: There are a lot of financial types of advice programs and people. What makes Smart Cookie different? What makes it effective?
SANDRA HANNA: It's because we speak to women like their girlfriends would. Everything is self-taught, and I think we're super resourceful. We'll find someone who's an expert in lending or investing and bring that into the group. It's truly approachable. There's certainly a program to follow, but there's no one-size-fits-all. Everyone's situation is different; everyone thinks of money differently, so it's kind of a softer approach, and, in the finance world there wasn't that before. I think that's what makes our community so strong. You want to hang out with your girlfriends and, oh yeah, we're going to help you kick ass with your money too.
OUR HOUSE: Tell us about the the Smart Cookies program
SANDRA HANNA: Smart Cookies, most of what we do is free content. We have a weekly email that goes out that touches on everything from basics like decorating your house and getting the most value out of that, to what do you do if you want to invest in your RRSPs. We do lifestyle finance all the way up to really digging into some pretty serious financial goals. Being part of our community and signing up for our email newsletter and following on social media is a great way to access that content. We offer a deeper level of content as well. What I'm most proud of is that I run something personally, the Smart Cookies money club which is the online version of the exact money club we created when we started Smart Cookies. It's evolved over the years a little bit but what we do in those meetings is set up a core financial plan based on what everyone's personal goals are, and I'm online with them setting up their success stats. It's really about breaking it down into bite-sized goals that feel really awesome. What happens is, once you hit that first goal, then you build that momentum. The programs are all online, and the great thing about that is it's women from all over the world.
OUR HOUSE: Why is it important to have money goals in the first place?
SANDRA HANNA: I just think having a money goal equals having a life goal for me personally. I find, when I hit my money goals, everything in my life has just such a rich snowball effect, but, beyond that, especially as women, just to know you know what's going on with your finances, you know you can take care of yourself if something happens. That is, you become a better parent, you become a better friend and you become a better person in general when you aren't stressed about money. The stress of money weighs so heavily on so many, and what gets you out of that is setting inspiring goals that you're really excited about. So, when you're on that journey to pay off your debt or save for that home, it's not about sacrifice. It's not about deprivation because they become choices that you're making and you're so excited about your goal and what that is going to look like and feel like for your life.
OUR HOUSE: What's your take on getting prepared to purchase a home?
SANDRA HANNA: There's lots of people in our money club that a goal of theirs is to have their own home. Certainly, in the beginning, it's about setting up that savings. In Vancouver, we know that it's a lot, but you have to start somewhere. Putting that money away automatically, locking it away in a savings account and having it come out of your paycheck, if that is a goal of yours, you've got to work it. In the beginning, that was such a big goal of mine I was willing to do whatever it took. To me, it didn't feel like I was working myself to the bone. It didn't feel like I was making my whole life obsessed with a goal in a negative way; it was just so exciting to me. That's the secret, make it really exciting for yourself. Also, that habit you build when you're saving for a home is also great because, when you have a home we all know there's lots of expenses that come up too, but then you're able to carry that habit forward. Understanding and talking to other homeowners too and seeing what their experience was like. Talking to them about the different financial aspects, then you get help. Just like Smart Cookies, it helps to talk to other people who have gone through the process.
OUR HOUSE: Did you end up buying a home using what you learned?
SANDRA HANNA: Yes, I did. My husband and I bought a place many years ago. That goal for me was such a sweet lesson achieved. Such a goal that I worked so hard for to be able to make that happen was pretty exciting.
OUR HOUSE: Having gone through the process to learn about personal financing and money yourself, were you surprised how easy or how hard it was?
SANDRA HANNA: I think what I've learned along the way, because I've been really lucky to work with a lot of people who are big time financial experts… is it's shockingly simple. The lesson is, it isn't that hard. What is difficult is finding the method that is going to stick for you. It's like losing weight. Everyone knows you don't eat as much and you start exercising, but yet sometimes it works and sometimes it doesn't. It's absolutely a roller-coaster ride; some days are easy and some days are not. You really have to stop yourself when you're feeling intimidated in any financial situation and keep pushing through that. That is the hardest thing, and, if you keep pushing through that, it will open you up to a whole world that is fascinating and interesting to learn about.
OUR HOUSE: Since you started the money club and Smart Cookies, are women getting smarter with their money and more comfortable talking about their finances?
SANDRA HANNA: Yes, I think so. I think more groups like Smart Cookies, and I think that's evolved with social media and online companies, disrupting that industry of what personal finance used to be. There's still work to be done. Millennials and the generation that came after us, they're really savvy, especially at entrepreneurship. That is so empowering and that is key and I think a lot of women are excited about what that look like and the opportunities there. There is a conversation that is shifting in a positive way about taking control of your finances.
OUR HOUSE: Is the hope that eventually Smart Cookies is not even going to be needed, and this information is something women will already have?
SANDRA HANNA: I would love to have really exciting financial education in the school system. I think that would be amazing. That would be the ultimate goal, that young women, I have a daughter now, just to have her grow up and not be scared and be naturally curious and feel empowered about money. Have it just be part of what girls talk about like everything else. I do think things are shifting that way. That's my goal, to continue the conversation about finances and entrepreneurship, about women empowering one another too.
"The stress of money weighs so heavily on so many, and what gets you out of that is setting inspiring goals that you're really excited about! So, when you're on that journey to pay off your debt or save for that home, it's not about sacrifice!" – Sandra Hanna
Enter Oprah
As the women were working on their finances, Oprah Winfrey was doing a "Debt Diet" series and looking for examples from viewers. On a lark, one of the women decided to share the group's story with the television show. The rest is history. A producer was interested, and they were invited to share their experience with the world. After the show, the group was given a deal to write a series of books about their money club and sharing their experience and expertise to help other women become financially fearless.
That eventually grew into smartcookies.com, an online incarnation of all the tips and lessons learned. Sandra describes Smart Cookies as the Weight Watchers for money.
About six years ago, Sandra took over the Smart Cookies enterprise from her friends. However, the group is still the best of friends and offers input when needed.
---