Published by DLC Marketing Team
Getting Your Home Winter Ready
.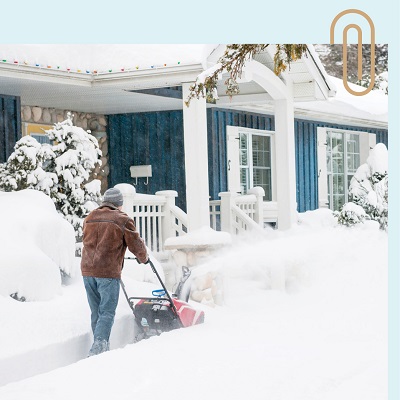 Winter is coming… With the changing of the seasons, it can be a good time to take stock of your home and ensure you are ready for the winter and it's colder weather. To help you feel more comfortable, save on bills and prevent future repair costs, there are some simple things you can do to prepare for the coming season.
Tending to minor problems yourself, or booking a professional now, will save you time and aggravation later. Once the poor weather hit, it makes it harder to tackle home maintenance jobs!
Mind the Gaps
Search exterior window frames, doors and siding for cracks and gaps where water could get in. Doors and windows commonly have gaps that let cold in and heat out. Some will be easy to fill or fix yourself but could save you money and damage down the line!
Check Your Pipes
Checking your pipe joints for leaks that could cause rot and damage will save you trouble in the future. Repair any cracks you find, especially those around electrical outlets and alarm system lines. Another tip is covering your pipes around your hot water tank. This will help them hold the heat in and keep the water warmer longer without fuel. Many inexpensive options are available for all tank and pipe sizes. Make use of blankets if you are on a budget!
Insulation is Key!
On a snowy day go outside and look at your roof; you should see snow on the roof. If you can see your roof that means the attic is not insulated well, therefore heat is escaping and melting the snow. Almost any home can benefit from added insulation; invest in a good solution now to save you in the future. Foam pipe insulation is easy to install and can prevent energy loss and potential water damage from frozen pipes. Plus, if you find you are really having a hard time keeping the heat in, you can consider insulated flooring! Massive heat loss occurs through your floors. Even an added area rug can improve insulation, and make sure to fill any gaps in your flooring with silicone.
Service Your Heat Source
Before Winter starts, be sure to have a professional check and clean your heat sources. You should have your chimney cleaned regularly if heated by wood, or make sure to update your oil heater's filters and service gas furnaces regularly. A technician can check for both efficiency and hazards.
Manage Your Thermostat
As tempting as it is to turn your heat all the way up in the winter, proper thermostat management will help you save in the long run. Have your heat sources inspected for efficiency. Also be sure to check for gaps and drafts in your home to help it retain heat much better! By using a thermostat with a timer, you can save even more! Turn it on early so the room heats up in time for use versus cranking the heat when you need to get warm quickly. Have the heat turn off 30 minutes before bed or before leaving the home. If you find you are chilly at night, a safely positioned space heater and closed door will be much cheaper!
Close That Door!
To keep your heating system from working too hard, close doors when rooms are not in use. This prevents heat transfer out of vacant rooms, and will ensure your active space remains warm and cozy.
Create a Storm Kit
A storm kit is a handy source of essential items in the event of losing power. Consider what you and your family might need. Some basics include a flashlight with new batteries, candles, matches, a portable radio, water and snacks. Keep your kit somewhere easy to access.
---