Published by DLC Marketing Team
Credit-Free Christmas in 5 Steps!
.
The holidays are a beautiful time of year, filled with sparkling lights and delicious meals and overplayed tunes.
As much as these celebrations bring us joy and harmony, they can also bring us stress. This is particularly true when it comes to your finances! This year, aim for a credit-free Christmas! With a little planning, there are a few ways you can make sure your holidays are stress and credit-free.
Manage Your Expectations
Do you remember how last year made you feel? Were your holidays refreshing? Or did you find them draining and you are still trying to figure out how to pay off your bills? In fact, most of us want holidays to be energizing and provide a feeling of togetherness, which comes down to more than just spending money. Deciding your expectations for the holidays, makes it easier to work towards things that create that result – and avoid things that don't!
What Are Your Goals?
What is your goal for the holiday? Are you looking to plan an extravagant black-tie party or more of a low-key celebration? Maybe you just want to hang out with lots of family and friends (and food!)? Or perhaps you would like to get away for the holidays? Share your thoughts with your family and make a decision that works for everyone. Talking about the holidays ahead of time puts everyone on the same page with no surprises.
Credit-Free Christmas With a Budget
Once you have decided what your expectations and goals for the holiday, create a budget that works for you. Take a look at your monthly budget and determine what you have available. Whether you put money aside each month to tackle your list, or pick up a few items per paycheck, a little planning can go a long way to creating a credit-free Christmas! After you create your budget, you will want a list of everything you need. Not just individual gifts! Also make sure to take stock of any decorations, baking or food items, clothing or event tickets that you may need to invest in.
Your Credit-Free Christmas Starts Now!
As someone who grew up with a mom who started holiday shopping in June, I know a good budget and early planning makes a difference. Instead of lumping your entire holiday budget into a couple paychecks, try shopping for gifts and cute decor all year long. Not only will this help you feel more organized, but it can help you manage your budget as well. Planning ahead and giving yourself more time allows you to scoop up incredible deals throughout the year (cue seasonal clearance sales) which means you can spread your budget even farther – without going over!
Don't Fear Help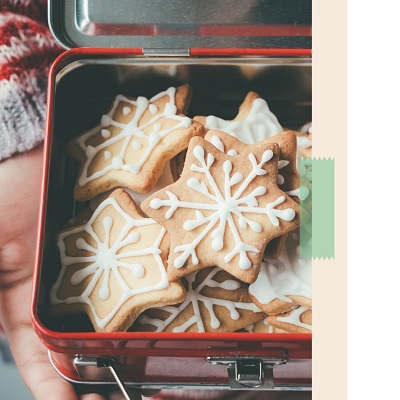 The holidays are a time where we are supposed to share experiences and support each other. If you are hosting a big holiday dinner this year, don't be afraid to ask your family to bring appies or drinks. If you are buying gifts for friends, set a limit or challenge everyone to make something by hand! Homemade gifts can often feel more special and it creates a fun exchange for you and your friends. There are many incredible ways to reduce stress and help get others involved so that the holiday is perfect for everyone.
Beyond the Spending
It is easy to get caught up in the consumerism and expectations of the holidays. Is dinner perfect? Did you buy enough gifts? Did you invite everyone? Is everyone happy? But don't forget yourself in your efforts to please others.
Even though the holidays can feel hectic, it is important to celebrate YOU and be grateful for what you have – even if you weren't able to check off all the boxes. Life happens, but the most important thing is that we live it while we can. This is also helpful for children as I am sure most of us would prefer our kids grew up grateful and happy, instead of in-debt and stressed due to preconceived notions of what holidays should be.
Your holiday is just that – YOURS. Spend it whichever way brings you the most joy and the least amount of stress on your pocketbook.
---