Published by DLC Marketing Team
A Holiday Party to Remember
.
Everything you need to host the perfect holiday bash
The end of the year usually results in excitement, party celebrations and, oh yes, stress. Fortunately, you can relax this time! We've got you covered with some tips to help you plan the perfect holiday party for any occasion you celebrate.
Party Preparations: Food and Drink
When it comes to parties, the best way to host a stress-free celebration is to BE PREPARED. A good place to stat is by making a list of all the food you need. Get as much as you can bought days, if not weeks, in advance. Any dishes or desserts that can be prepared in advance and frozen for a week will also help! The night before, get all your prep-work done. Take out any frozen items and allow them to defrost overnight, either on the counter or the refrigerator. This is also a good time to cut veggies and prep your meat for the oven the next day.
Trust me! Waking up and only needing to shove your meal into the oven and watch it will put you way ahead of the game. Not only does this give you less things to stress over on the day of the party, but will also ensure you have more time to entertain your guests.
Another aspect of guest entertainment are appetizers! It is always a good idea to have something for your guests to nibble on before the big meal. Cheese and fruit plates or veggies and dip can be great options that are quick and easy!
We all have traditions, so embrace them. If there's a family recipe passed down from generations, incorporate that into your dinner. For me, nothing says "holiday" more than a signature cocktail, and my favourite is a Brandy Alexander. Whatever your signature beverage, have a few pre-made before your guests' arrival so you're not scrambling.
Keep the Party Going!
Getting as much food and drink prep done before the party will help keep your internal temperature down. For an even greater experience, there are a few additional things you can do to keep the celebrations moving along!
Don't hesitate to call on a close friend or family member to help you. This ensures there is always someone greeting guests at the door, making sure coats are put away and getting a drink into their hand as quickly as possible. It also can't hurt to keep someone on bar duty, making sure everyone's glass stays full, that there are drinks on hand and ice is available.
If you have little ones in attendance, set up an area for them to show off their new gifts. Maybe select your favourite holiday movie to keep them occupied.
If you're expecting a large number of guests, you may want to send out an evite ahead of time. This can note all the important details, so they are prepared if you're expecting them to contribute. It also gives you a better idea of exactly how many guests are going to show up.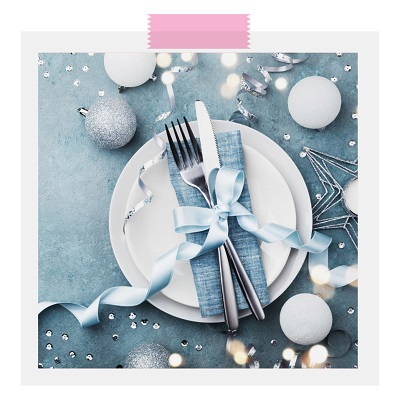 Holiday Décor
Your décor is a major part of any party, but it really comes down to individual taste and tradition. I like to modernize the holidays, so I tend to incorporate a lot of silver and blue at my parties. However, I know people who simply can't get enough of the traditional red and green! Or maybe you're all about that silver and gold! No matter your color preferences, your goal as host is simply to make your guests feel like they are truly in the holiday spirit and right at home.
The End of the Night
When it comes to the holidays, it is not unusual for parties to run into the wee hours. Nothing helps work off the extra helping of dessert more than a good walk around the neighbourhood to check out all the light displays!
If your party is going to involve a fair amount of cocktails, it is your duty as host to ensure your guests get home safely; don't drink and drive. If you are not able to make reservations in advance, it could be tough to get a last-minute cab. If you've got space, be prepared for people to stay over or plan ahead for safe rides home.
When all is said and done, the most important part of a good holiday party is FUN! Make sure your guests (and you!) are enjoying themselves and the season. Before you know it, it will be all over and you'll be planning for next year.
---