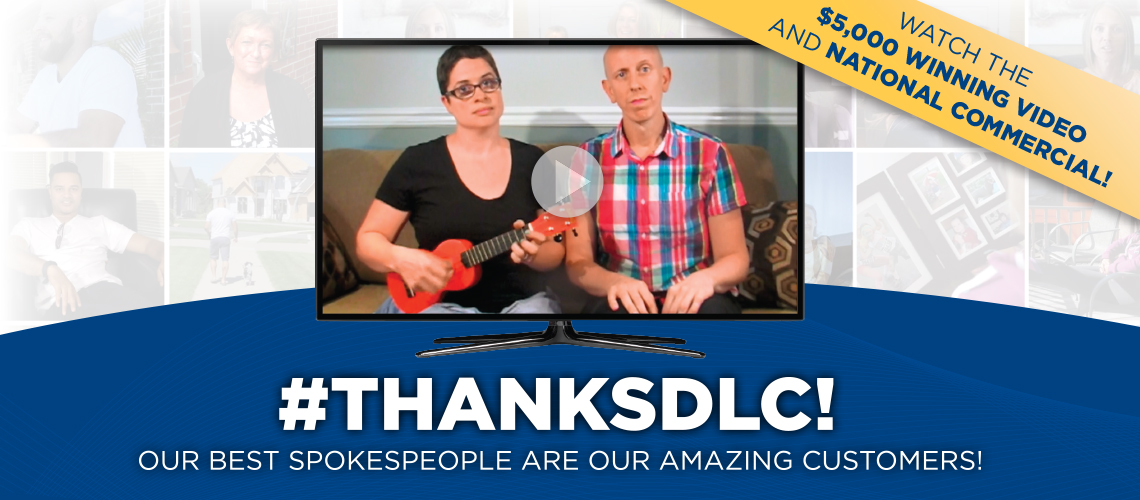 Langley, BC Couple, Ryan and Laura Koch, Win Grand Prize of $5,000 as Part of #ThanksDLC Contest

Vancouver, BC – A couple from Langley, BC, has won $5,000 as a part of the grand prize for Dominion Lending Centre's #ThanksDLC campaign, which asked for individuals across Canada to submit videos online, describing how their lives have been impacted by a DLC Mortgage Professional using the hashtag #ThanksDLC.
Ryan and Laura Koch's successful entry, which was an ode set to ukulele music to their Accredited Mortgage Professional, Angela Calla, will be played on national television and in movie theatres across Canada. The commercial, which features pictures of their family on vacation in Europe will be played during the Canadian broadcasts of the 103rd Grey Cup and Super Bowl 50.
"Congratulations to Ryan and Laura!" said Gary Mauris, President and CEO of Dominion Lending Centres, who presented the pair with a cheque on November 19th. "The entire network of DLC mortgage professionals loved your song and video and we're glad that Angela was able to help you guys achieve your dreams."
"We are both thrilled that we won the #ThanksDLC contest!" said Ryan and Laura Koch. "Our experience with Dominion Lending Centres has just gone from great to unbelievable. First, we're able to get the house of our dreams and a family vacation thanks to Angela, and now this incredible prize! We're truly grateful for this."
Each of the nine runners-up received a $1,000 prize for their creative and thoughtful submissions. Some of these videos will also appear in future national and online commercials. The other nine winners along with the DLC mortgage professionals who helped them were (in no particular order):
* Vijay Desouza, Calgary AB (Mortgage Professional- Alim Charania)
* Josie McNaboe, Mono, ON (Mortgage Professional- Phil Weir)
* Suzanne Wilson, Scarborough, ON (Mortgage Professional- Donna Lewczuk)
* Amanda Soha, London, ON (Mortgage Professional- Mike Hattim)
* Meredith Walker, Edmonton, AB (Mortgage Professional- Michele McGarvey)
* Eric Gaglardi, London, ON (Mortgage Professional- Mike Hattim)
* Anthea Jane Lindsey, Port Moody, BC (Mortgage Professional- Rachael McErlean)
* Abby Boychuk, Fort McMurray, AB (Mortgage Professional- Rayna Boychuk)
* Chrystal Wilson, London, ON (Mortgage Professional- Mike Hattim)
"Thank you to everyone across the country who submitted an entry," added Mauris. "We had some incredible videos submitted and we were overwhelmed by the response to the #ThanksDLC campaign. That reaction is a testament to the incredible work that our Mortgage Professionals do in communities across the country."
Here are the three #ThanksDLC commercials which will begin airing across the country starting this weekend:
One Minute #ThanksDLC Commercial with Laura and Ryan
30 Second #ThanksDLC Commercial with Laura and Ryan
30 Second #ThanksDLC Commercial Featuring Various Families